WorkSafe BC Occupational Health and Safety Regulations are meant to recognize, reduce or eliminate workplace hazards and provide workers with a safe environment. 
Occupational first aid provides workers with quick, easily accessible, and efficient standard first aid treatments/followups with records to substantiate this processes. The following are needed to accomplish this:
Occupational first aid attendants with required standard of training
Regulation first aid rooms or dressing stations
First aid kits with regulation supplies
Record keeping
Required means of efficiently transporting an injured worker to a first aid/medical facility or a hospital
Adequate communication between first aid attendants, workers and management
Certified First Aid Training
Polar Ridge Resources services are provided locally or at worksite location as required.
WORKSAFE BC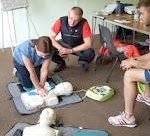 OFA LEVEL 1 / TRANSPORTATION ENDORSEMENT
LIFESAVING SOCIETY
WORKSITE FIRST AID (OFA LEVEL 1 EQUIVALENT)
STANDARD FIRST AID
CPR/HCP